How much military spending do you need to feel safe?  How much do we need to be safe?  A lot of us would feel secure knowing we spend more than any other country in the world.  If I told you we spend twice as much as the #2 military in the world, you would feel even more secure.   To the rational person, that sounds like enough, but we spend way, way more than that.
In fact, the U.S. spends more than the next 17 nations in the world combined.   Check out these graphs to get a visual sense of the insanity …
 
… and this one from Rickety: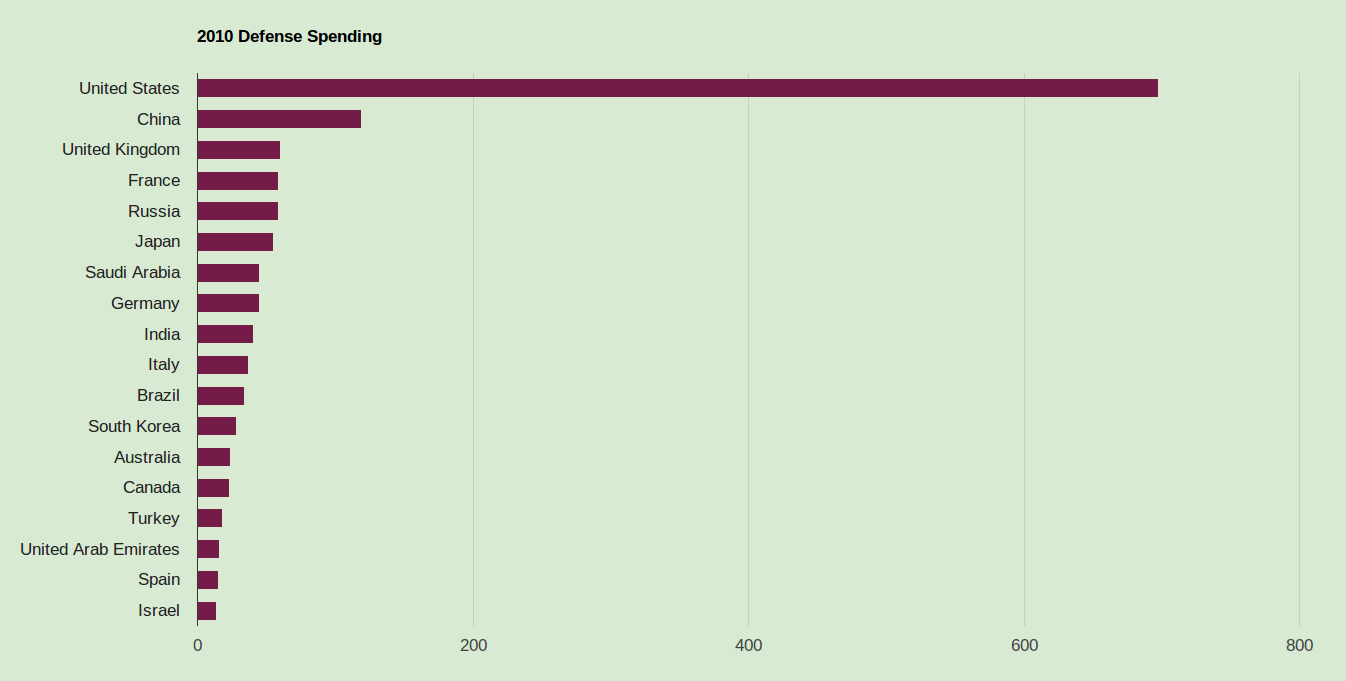 We spend 6 times as much as 2nd place China.  Do we really need that much?  It should not cost that much to defend ourselves.   We spent $698 billion in 2010; China spent $119 billion.  Was China's military effective in defending the nation last year?  Did they get invaded, destroyed, or even attacked in 2010?   In this era of debt consciousness, the military budget is where we can find some easy cuts. 

At this point, the hawks and neocons come back with some amusing statistics of their own.   They love to talk instead about military spending as a percentage of GDP or spending per capita.  That's a pretty poor way to measure the effectiveness and strength of the military.  Under their logic, our military is not big enough to defend us from an invasion by Myanmar.  I guess they are trying to mislead people who don't understand percentages.  If you rank the countries based on percentage of GDP, of course we would not be #1, because our GDP is enormous compared to these other backwater nations.

I guess national defense really is not the point.  If it were they need to come up with a better justificat­ion to be outspendin­g the world like this.  If we're spending this much they better show us some damn space aliens.

So where would I cut the military?  Certainly not with cuts to salaries and benefits of the troops.  I'll outline some of my ideas for defense priority realignment in coming posts.